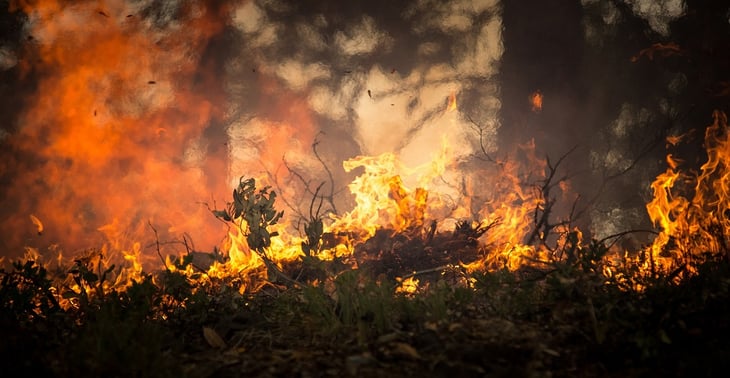 California has been plagued by devastating wildfires over the past two summers, with the 2018 Camp Fire the deadliest and most destructive on record. Now that summer has officially started in 2019, officials are bracing for a possible string of new fires, with Governor Gavin Newsom telling officials to "prepare for the worst" in a recent meeting with emergency managers. In a discussion of what to expect for future California wildfire seasons, Chris Field, the Perry L. McCarty Director of the Stanford Woods Institute for the Environment, stated:
The combination of climate change, increasing development in the wildland-urban interface, and fuel accumulation from decades of fire suppression dramatically increases the risk of fires that are large and catastrophic. Former California Governor Jerry Brown described the situation as a "new abnormal." We need to recognize that, in California, we face the real risk that every fire season will be among the most destructive, or even the most destructive, on record.
Federal, state, and local officials, utilities, and residents, among many others, are now grappling with how to best prepare for this "new abnormal." Efforts range from the U.S. Forest Service and the California Department of Forestry and Fire Protection's fast-tracked forest management projects to Governor Newsom's June 2019 proposal to create a $21 billion fund to compensate future wildfire victims. One big piece of the puzzle is strengthening wireless infrastructure to ensure that residents are connected to loved ones and vital services in the event of a disaster, particularly as the number of households without landlines continues to grow.
Senate Bill 670
As discussed in this blog previously, cellular service has a number of vulnerabilities that can cause it to falter during an emergency. During wildfires, one of the key risks for wireless infrastructure is physical damage and burning of underground and pole-mounted fiber lines. Gaps in cellular service can prevent residents from being able to reach 911 or receive crucial emergency notifications. This disruption of service is particularly dangerous in the face of a rapidly moving wildfire. Legislation aiming to address part of the problem is currently winding its way through the California legislature: Senate Bill 670, authored by State Senator Mike McGuire (D-Healdsburg).
The proposed legislation would require telecommunications companies to report outages impacting customers' ability to access 911 or receive emergency notifications to the California Office of Emergency Services (Cal OES) within 60 minutes of discovering the outage. Cal OES would then forward this information to local first responders so that they can identify any residents cut off from service. In 2018, certain Butte County residents received no official warning of the coming Camp Fire due to damaged cellular towers, with Sonoma County residents facing similar problems in 2017. The gap in communications was compounded by ineffectual use of wireless alert systems at the local level. Senator McGuire also authored Senate Bill 833, establishing statewide emergency alert protocols and regulations, which former Governor Jerry Brown signed in September 2018.
Concerns Regarding Power Supplies for Wireless Infrastructure
In May 2019, the Public Advocates Office (formerly the Office of Ratepayer Advocates), an independent organization within the California Public Utilities Commission (CPUC) that advocates on behalf of utility ratepayers, filed a legal motion urging the agency to act immediately to ensure that communication systems work during emergencies. As stated in a press release accompanying the motion:
[T]he Public Advocates Office seeks to better protect Californians during emergency situations by asserting that communication providers need to (1) ensure that calls and data be transmitted, without delay, during times of emergencies, (2) install backup generators or battery power at wireless facilities in high fire threat areas to reduce outages, (3) develop plans for alternative methods needed to support 9-1-1 call centers; (4) and take steps to improve their emergency alert and warning systems.
The Wireless Infrastructure Association has responded, pointing to regulatory hurdles inhibiting the expansion of cell sites to accommodate additional power sources and network redundancy. It has asked the Federal Communications Commission (FCC) to collaborate with local governments to prioritize and streamline the approval process.
FCC's Examination of Disaster Response and Recovery
Meanwhile, the FCC, on June 13, 2019, held the first meeting for the recently re-chartered Broadband Deployment Advisory Committee (BDAC), which will examine, in part, ways to boost wireless infrastructure during disasters and other emergencies. The committee will study how to accelerate the deployment of high-speed broadband access, focused on the following three areas:
Disaster Response and Recovery Working Group. Measures to improve resiliency of broadband infrastructure before a disaster occurs, and strategies that can be used during and after the response to a disaster to minimize broadband network downtime.
Increasing Broadband Investment in Low-Income Communities Working Group. New ways to encourage the deployment of high-speed broadband infrastructure and services to low-income communities.
Broadband Infrastructure Deployment Job Skills and Training Opportunities Working Group. Ways to make more widely available and improve job skills training and development opportunities for the broadband infrastructure deployment workforce.
Working in tandem with the BDAC, the FCC, in November 2018, launched a re-examination of the Wireless Resiliency Cooperative Framework, a voluntary commitment by mobile carriers focused on restoring communications during disasters and other emergencies, originally approved in 2016. The move was a response to major disruptions in wireless service following Hurricane Michael in the Florida Panhandle, but it is intended as a broader examination of wireless services in the event of a disaster.
This blog will continue to track future efforts to bolster wireless infrastructure during disasters, including the outcome of Senate Bill 670 and any action at the FCC.
About the Author, Alan Hearty
Alan Hearty is a partner in Allen Matkins' Century City office and head of the firm's Telecommunications Infrastructure Group.His practice focuses on real estate litigation and complex commercial litigation.
Share on: